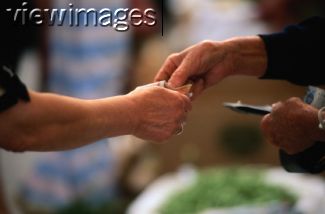 Money men
SLT`s accused of 'throwing cash away'

St Johnstone chairman Geoff Brown has launched a scathing attack on newly-promoted South London Tangerines summer spending spree. Brown, accused the supporters league debutants of 'throwing money down the drain'.
And he claimed that the SLT`s, who are now scouring the Continent for new talent, won't benefit from the cash injected by chairman Gregor Dobbie and fellow benefactor Iain Miller.

'The SLT`s have been throwing money about and there's no way it will pay,' said Brown. 'If it does, it will be the first time it's paid to throw money down the drain. That's what it all boils down to, I'm afraid.

'How many clubs have tried this in the past and lived to regret it? Did no-one listen to John Boyle last season when he decided to cut his losses and pull in the reins at Motherwell?

'I thought I had detected a sea-change among chairmen last term and hoped common sense would prevail over the summer as clubs prepared for the new campaign.

'But I've been amazed to see what's happening at the SLT`s. It's really quite astounding. They are paying silly money to players coming in.'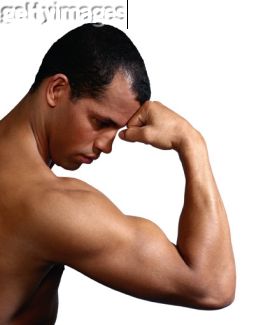 Beefcake
FREEMAN "FINE" FOLLOWING FIVES FLOP!

The SLTs were in reflective mood today after a five a side display that bordered on the bizarre. Both tangerine teams put up below-par displays, losing all but two games between them and sending the ever-expanding SLT fan base home with little to shout about. There have been the usual calls for Malky Freeman to resign following another black day for the club, which has now not won a game of any sort for a good few months. However, it appears that everyone who took part in the tournament has to take some blame,

Kev Thompson, usually such a consistent performer in the much-maligned SLT rearguard summed up his performance as,

"rubbish"

Thompson blamed a night of heavy drinking for his poor play, something the fans will find a bitter pill to swallow.

Striker Ali Merry did not enjoy his day out,

"Football wise not much to say, in fact I`m not sure that was football"

Merry hinting there at a possible unfriendly atmosphere in Norbury's finest Sports Centre. The young lad, a former member of The Shadows, went on to conclude that the whole experience had been,

"horrible".

Rod Burns came in with a few contraversial comments:

"After being moved into the "stiffs" B for Beefcake team I would say the only person we can blame for the disastrous results is Freebar.
G tried his hardest to bring some flair into the game with flicks and belly showing but it was to no avail as we were pumped in three out of four games. Louey showed his ability up front as he scored a double in our only victory.
J.C blew our last game with a schoolboy error, kicking the ball while outside
his area. Most amusing moment for everyone except me had to be when I was
hit square in the puss by a flying ball (not G`s)."

Iain Miller added his two cents:

"They were a disgrace to the club, the fans and more importantly
themselves. There was no backbone or fight to the team whatsoever, and we
were guilty of simply going through the motions in an end of season stroll
in the sunshine. Flamboyant Dobbie & I will not tolerate performances like
that, and we have let the squad know this. To the credit of the players
involved they undertook the clubs and supporters costs for the whole day."

Malky Freeman's more weighty summary of the tournament will shock a lot fans with its slightly cocky and defiant note, surely at odds with the wooden spoons currently on show in the SLT trophy room,

"All in all, it was a disappointing day at the office for the South London
Tangerines select teams in the annual APSFCIL 5-a-side tourney in the south
of London. Cursed by two tough groups, both were unable to hold there own in
the heat of summer, with both teams recording a solitary win out of 4 in
their group games.

The first team comprising of Malky, Kev, Ali, Blair, Glen and Jamie were
unlucky in their opening two matches. Beaten by the Boro 1-0, they were then
kicked off the park against the horrible Huns before going 2-1 (with Glen
kissing the badge as he ran off limping after scoring). This game was
followed up by a 6-3 trouncing by the SLTs on the Aberdeen select (Malky and
Blair bagging a brace apiece with Glen and Ali knocking one each)...before
Doncaster did a demolition job of their own, banging 7 passed the hapless
James with no reply.

The SLTs second team was made up of 100% Beefcake and had Messrs Dave C,
Figo, G, JC, Rod and "The Bald Hammer" trying to overcome their more manly
opponents. Their results were as follows:
1-3 v Hibs (Figo opening the scoring before the eventual winners of the
tourney Hibs nabbed three. Rod got a full pelt ball to the puss)
3-2 v Gers (Double from Louey and a lucky drive by Coleiro saw the shed boys
come up trumps)
0-3 v Plymouth (Absolutely trounced - nuff said)
0-1 v York City (J.C disgraceful penalty given away"

Thanks Malky, and well done on your brace.

Where now for the SLTs? Answers to the usual address.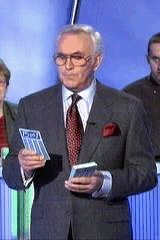 STEWART SLATES SLT "REPROBATES"

William G Stewart, well known television presenter and housewives
favourite, has continued his attack on the SLTs. This time it is not the
lack of fixtures that is getting the spectacle and cravat wearing
grandfather's goat, but their off-field behaviour.

"When I heard that Joe Royle had been sacked because of his installation of
a 'pub culture' at Man City I laughed so hard that I very nearly followed
through" said the ageing lothario last night.

"How, oh how, can the papers condemn this when, right on their doorsteps,
there is a South London outfit who are a bunch of absolute jokers. They
gamble, drink, smoke waccy baccy and chase loose women EVERY SINGLE DAY OF THEIR LIVES".

By now Stewart was clearlt rattled, sweating profusely and he took his
fedora hat off as he deliverd his killer line,

"They are scum and I will not stop until I take them down, even though I
know that when I take them on it will be fifteen to one".


FURIOUS FREEMAN HITS BACK, MONEY MEN GIVE SUPPORT

Under-fire SLT Director of Football last night hit back at his critics and sent them a very clear message,

"I'm not going!"

Freeman has become a target for some SLT followers following Sunday's drubbing but has crucially kept the support of Messrs Miller and Dobbie, the money men behind the SLTs.

Yesterday afternoon, Miller and Dobbie held an impromtu press conference in a jacuzzi in South London. Surrounded by bikiki-clad men and women, the two wore fedora hats and large shaded spectacles whilst declaring that Freeman's job was safe,

"He has my support" said Dobbie simply whilst drawing heavily on a large cigar and giggling softly as a small monkey tickled him under his chin, the animal allegedly a present from a well known soap star.

"He is a friend and I am behind him. I AM BEHIND HIM" half-shouted Miller, jabbing his finger as he made his point. Miller was dressed entirely in black silk and looked sensational with his hair rolled into tight dreadlocks as he slipped slowly back beneath the bubbles.

It was undoubtedly this level of support that led to Freeman's confidence last night when he made his announcement from his balcony in Earlsfield. The mob of angry fans below, who had earlier burnt an effigy of Freeman while chanting, "Freeman must go, Freeman must die" and "Malky, Malky, Malky, why, why, why" were stunned into silence by Freeman's confidence. He swaggered onto the balcony wearing an ill-fitting tangerine sarong and Paul Sturrock's club tie before launching into an angry defence of his Directorial talents. Finally, he won the crowd and as they disappeared for the 45 minute walk to earlsfield train station they could be heard to sing,

"Malky must stay", an incredible about-turn.

Freeman was clearly smiling as he returned to his Spaghetti Bolognese, ironically not his favourite dish. His favourite is Cheese Macaroni which he has every Thursday night without fail. Once at a dinner party, Freeman jokingly told the shocked table that he would marry "Cheesa Macaroni, an Italian girl who lives in my cupboard". Unfortunately, no one at the table appeared to find the 'joke' amusing and there was a very uncomfortable silence, with Freeman leaving shortly after, muttering his apologies.

Where now for the SLTs?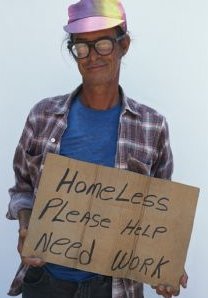 Tramp
GOURLAY DEFENDS "TRAMP EJECTION"

As British Transport Police slowly close their net around South-East London, Fraser Gourlay has leapt to the defence of the now-infamous Train Ejection Squad (TES).

"Quite simply" gasped Gourlay last night from his secret location, "we did nothing wrong".

The whereabouts of Gourlay and the rest of the gang is a mystery. It has been widely reported that TES split up at Paddington Station shortly after the "operation" and the authorities have admitted they would be very surprised if any of the gang were still in the country.

Gourlay was desperate to put the record straight,

"The SLTs boarded a train only to find a pikie trying to join in the fun and
games, we banned him from our carriage, and sent him off to the tune off
"you live in wheely bin". But the pikie kept coming back- and he was annoying other passangers in the carraige we had banned him to. This was too much for the South London boys to take and 3 of them grabbed the pikie out of his chair, dragged him along the floor and threw him off the train at Reading. I announced to the crowd, "no need to thank us we are the south london tangerine crusty busters" , I think there might have been applause."

At this point there was a prolonged beeping and Gourlay let his master criminal mask slip slightly by announcing, "b*llocks, I`ve run out of guilders", perhaps offering a lifeline to his pursuers. Knowing the genius of TES, however, it is likely to prove a red herring.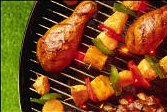 THE PRESIDENT SPEAKS OUT.....

SLT President Iain Miller has finally broken his silence on the long-running SLT Summer Showdown Scandal. The debate about the SLTs lack of fixtures has provoked a lot of comment and hot-headedness from such notables as William G Stewart (a good friend of the SLTs) and Ronnie Corbett. Miller, however, was less clear about what side of the matter he took when he finally commented today, "What the f*ck is this all about?" Miller shouted angrily at us in a supermarket carpark in South London. The President appeared weighted down with shopping bags full of popular barbecue foodstuffs. Where now for the SLTs and President Miller?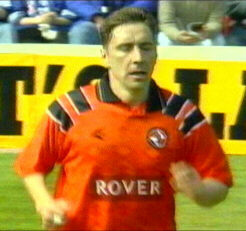 Neil Forsyth
Forsyth: Miller is a lot better than me

Neil Forsyth, the player tagged Scotland's latter-day Jim Mcinally, admitted yesterday that the SLT's Iain Miller became his role model in the aftermath of the game against KPMG.

Although SLT's Forsyth was the player who finished with a goal, he admits that playing with the former president was a very humbling experience.
Yesterday, Forsyth admitted: 'I learned a lot from the KPMG game. I learned that Iain Miller is a lot better than me.
'He's a great player. You don't realise how fit he is. He has everything as a player and he just dictates the pace of the play. I try to watch as many of his games as I can because he is exciting to watch.
'He's a role model for me. He made me realise that I can become a lot fitter and be more composed on the ball. When you're 22 and have played a limited number of matches, then you can improve on every aspect of your game. Miller, at 26, is that bit older and stronger.
'He started off defending and then making some dangerous runs forward. I hope there will be some good battles between us in the future. I did have the consolation of a goal.'
Forsyth admitted that he had been determined to go out at the Battersea Stadium and grab the game by the throat. 'Unfortunately, Miller doesn't let you do that,' he said. 'I finished up trying to stop him running the match and he got the better of me that day.